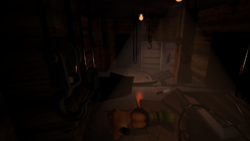 The Meat Freezer, also known as CAM2, is a location in Five Nights at Treasure Island. Ace's head can be seen lying on the ground with a cleaver nearby with some other objects and debris lying around on the floor, with two white shelves in the corner. There are also a few meat hooks and loose, black wires hanging from the ceiling. There is also a Mickey Mouse button on the ground. Mortimer, Impure Mouse and Oswald can pass through here. Ace's eyes can occasionally be seen open. UO starts here on Night 5.
Ad blocker interference detected!
Wikia is a free-to-use site that makes money from advertising. We have a modified experience for viewers using ad blockers

Wikia is not accessible if you've made further modifications. Remove the custom ad blocker rule(s) and the page will load as expected.