Conjecture


Roof is not an official name. Presently, there is no official term for it, so Roof will be used until an official term is released to the public.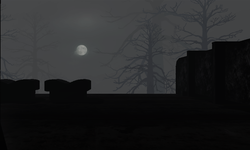 The Roof, also known as CAM 8, is a location in Five Nights at Treasure Island. It is what seems to be a roof top. There is a large vent shaft on the roof. There are some dead trees in the background as well as a full moon in a foggy night sky.
Ad blocker interference detected!
Wikia is a free-to-use site that makes money from advertising. We have a modified experience for viewers using ad blockers

Wikia is not accessible if you've made further modifications. Remove the custom ad blocker rule(s) and the page will load as expected.